Okay. So, tomorrow will be the 16th anniversary of receiving my diagnosis of HIV+. Wow. It was only a few months later that the doctor told me in a round about way that I would probably live for another two years or so at most. And here I am.
In many ways I think I survived because I didn't know better. Sure, I knew that it was bad, but I also knew that I didn't want to cop to the idea that something had the best of me. I pulled myself together, took charge of my life and proceeded to get as healthy as I could. I survived long enough for the medications to get better. Then, I survived the medications. Now, for the most part, I deal with some fatigue and displaced fat. All the more reason to spend as much time in the gym as possible.
Because I decided to fight, I knew I had to get a good job. No more low paying career-less time robbers for me. I wanted to do something. So, I got a job selling computers. From there, I got a job at a hospital supporting computers, and from there I became a system support analyst and spent 11 years being the best damn Help Desk guy I could be. The money wasn't great, but better than slinging burgers, and there seemed to be a future in it. Then, the entire IT department was outsourced.
Not willing to fire me, I got transferred to the Human Resources department where for about 9 months I scanned documents and sorted files. The money ran out for that position so I was left with a choice: take a job that I was frighteningly over qualified for, a job that I would be forced out of within a few months because the department would have to pay me what I had been making as a computer tech, or convince someone in HR to offer me a severance package.
They wouldn't call it "severance" because that might indicate that they had actually gotten rid of me. No, they called it "Transition Assistance." It was a paltry sum of money that would help me transition to a new job someplace else. Unfortunately, there really aren't any other jobs.
So, on the eve of the anniversary of my diagnosis, I decide to return to my roots as an artist and start a design company and sell t-shirts and coffee mugs.
A few months back I posted on my Facebook account an photo of a painting I had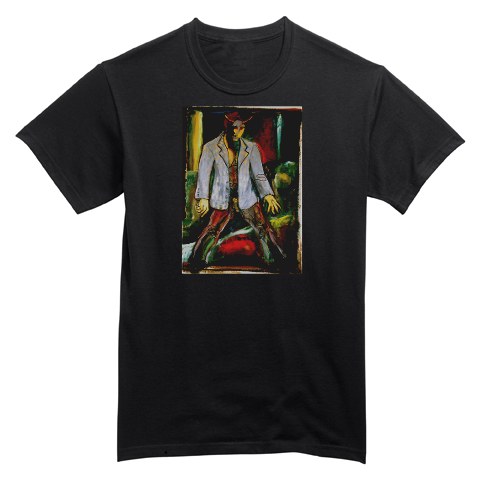 done in the '80s called "Devil in a Gray Suit." I actually got comments saying that it would make a great t-shirt. Then there was the picture of an eye, then…well, the list goes on. I realized that I had tons of ideas, all sorts of styles of work, pithy sayings and a love of both t-shirts and coffee. That's it! Follow your bliss!
The process is slow, but it's getting better. I've sold two shirts and a coffee mug so far. I know that it's kinda cheeky for me to use Tumblr as a platform for advertising, but the images are cool - at least I think they are - and maybe I'll get some feedback from my 16 or so followers!
I am also giving guitar lessons, managing my mom's rental properties and picking lost change off the ground around parking meters.
I love you guys. Now, buy a t-shirt!